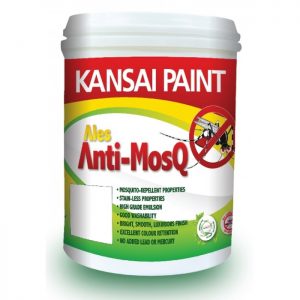 Kansai Paint Ales Anti-MosQ Mosquito Repellent Paint is a premium grade emulsion with mosquito-repellent properties and yet gives a brilliant, smooth and luxurious sheen finish for interior use.
WHY Ales Anti-MosQ?
Mosquito-repellant properties
Stain-less properties
High grade emulsion
Good washability
Bright, smooth, luxurious finish
Excellent colour retention
No added lead or mercury
HOW DOES IS WORK?
Acts on the nervous system of mosquitoes (also other insects) by interfering with the neuron functions.
Prevent mosquitoes from approaching the painted walls.
Prevent mosquitoes from hiding in the space between the painted walls and curtains.
With less mosquitoes in a residence or buildings, incidence of mosquito bites will be reduced.
Act as deterrent of mosquitoes for 24 hours (more effective than mosquito coils).
Kansai Paint Ales Anti-MosQ Video


KANSAI PAINT ALES ANTI-MOSQ is available purchase online directly from http://www.ewarehouse.atkc.com.my/paint/c-kansaipaint (Special Limited Discount!)
You can also request for FREE SAMPLE to try out!