With the hot weather throughout the year in Malaysia, many are planning to go abroad just to experience the cold temperatures. But to experience such a holiday, you do not have to spend bigger as Malaysia itself has a high land offering cooler and double fun, namely Genting Highland, Pahang. When say about Genting, the first thing that comes to mind is its theme park. But you need to know that besides the theme park, there are many more interesting places in Genting Highland that you can explore.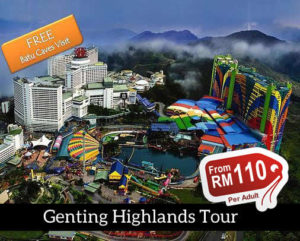 If you are from Kuala Lumpur traveling to Genting Highlands only takes about 1 hour drive. Who would have thought, in hot weather and an hour's drive you could feel the temperature of the European country. located in Bentong with a height of 2,000 meters and this is what makes Genting a low temperature of not more than 25 degrees Celsius. In fact, sometimes it reaches 14 degrees Celsius.
More interesting places in Genting Highland that you can explore such as:
Strawberry Leisure farms are located in the vicinity of Gohtong Jaya, the main town of Genting Highland.
located at the entrance to Genting View Resort. From the name of this premise we already know what will be offered to visitors. It is a bee farm that produces honey
Butterfly Wonderland Genting is a perfect butterfly park for the whole family.
It is a well-kept tropical rainforest. Genting Highland is not just a place of entertainment but it is rich in flora and fauna.
World of Phalaenopsis (Taman Orkid Genting)
Genting orchid garden houses more than 390 types of orchids of various types and colors.
For more information about Genting Highlands Tour Itinerary, please visit https://www.mytourlane.com/package/genting-highlands-tour/