A metering pump is used to move fluids at precise flow rates over certain periods of time. This dosing ability means many different types of pumps can be considered metering pumps, whether they are positive displacement or centrifugal. That being said, most metering pumps are classified as diaphragm pumps.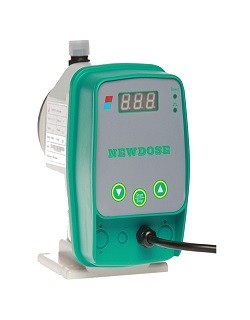 Depending on what mechanism is used to regulate flow rate will determine the type of metering pump it is.

Fixed displacement metering pumps: adjust the flow rate depending on the speed of the motor – generally done so to ensure a consistent amount of liquid is moved following every rotation.

Variable displacement metering pumps: adjust the flow rate to move a consistent amount of fluid – not dependent on the speed of the motor. This is done so through adjusting the stroke length or the amount of bypassed fluid.

Traditionally, metering pumps are used when the flow rate of a liquid needs to be regularly measured and adjusted to specific doses. They are commonly found to pump chemicals in water treatment applications, such as water for drinking, swimming pool or treatment in wastewater.

Food processing plants also use metering pumps to blend liquid ingredients or in laboratory and medical applications where accuracy is required. 

Where can I buy metering pumps?

When it comes to selecting the best metering pump, Global Pumps suggests doing your research and going through the 5 things you need to know checklist. There are a wide variety of pumps available, and it will depend on the application and requirements of the task.

Global Pumps' range of ProMinent pumps come in a wide range of capacities: from a few ml for laboratory purposes, or 40,000 L/h for use in larger processes.

Global Pumps offer the following metering pumps:

Diaphragm metering pumps

Hydraulic diaphragm metering pumps

Plunger metering pumps

Peristaltic pumps
For more information about metering pump malaysia, please visit https://thermacgroup.com