When designing or improving the lighting in your warehouse, there are several aspects to consider. There are so many that the work may appear intimidating, but it does not have to be tough. We're here to help you make the proper decisions, from the most fundamental decision of which light source to utilize to the more difficult decision of which light distribution style is ideal.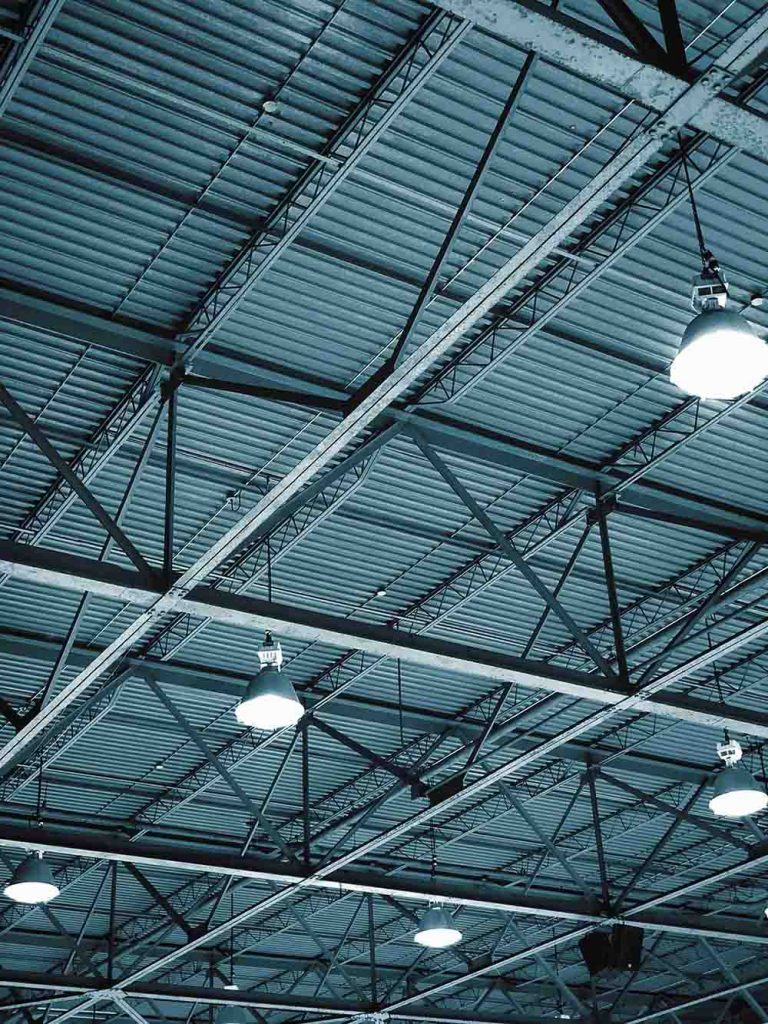 What Kind of Lighting Should Be Used?
When it comes to warehouse lighting sources, there are three possibilities, each with advantages and disadvantages: high intensity discharge (HID), fluorescent, and LED. HID bulbs were formerly assumed to be the only choice for lighting warehouses, and they are still widely used today. The initial cost of this type of light is the lowest. They do, however, have the fastest rate of Lumen degradation and do not provide many color temperature settings. High pressure sodium lights have a color temperature of roughly 2200K to 2400K and seem quite yellow. Metal halide lamps have a color temperature of 4000K to 4500K, which is substantially whiter. All HID systems require a warm-up period before attaining maximum illumination, as well as a cool-down period after being shut off before being switched on again. This implies that power spikes can knock out the lights for up to fifteen minutes.
Fluorescent lighting, which consumes less energy than HID lighting, might be a wonderful option to HID lighting for individuals on a small budget but still want a more energy efficient solution. They have a considerably wider variety of color temperatures, from 2700K to 6500K, as well as sizes and forms, giving you a lot more options when it comes to lighting your environment. The disadvantage of employing fluorescents is their limited operational temperature range. They may not perform well in extreme cold or heat. As a result, warehouses that are extremely cold or hot might shorten the life of fluorescents. Their life duration can also be shortened by frequent on/off cycles, hence they are not advised for situations where the lights are often turned on and off.
LED light lights are the most adaptable and energy efficient option for illuminating your warehouse. They consume less energy than any other light source while producing equivalent, if not superior, Lumen outputs. LEDs are available as full fixtures for new construction or as retrofits for existing installations. They may also last up to 100,000 life hours, which means you won't have to bring out the ladder or hoist nearly as often to replace a bulb, and they don't suffer from continual on/off cycles like HIDs and fluorescents do. LEDs can be impacted by warmer temperatures, even if they perform well in cooler temperatures. However, before temperatures around 80 degrees Fahrenheit, the drop in light output and life hours is frequently minimal.
How bright should the lighting be?
The color of your ceiling and walls may have a significant impact on lighting. Lighter coloured ceilings and walls reflect more light than dark hues, allowing you to utilize lights with lower Lumen output. These fixtures have the added benefit of utilizing less electricity, which saves you money on energy expenditures. If your warehouse contains skylights, you may also be able to employ a lower Lumen output lamp. In this instance, though, it's more probable that you'll require a technique to turn on fewer lights on bright days. This may be accomplished by connecting fixtures to several switches and only turning on as many as are required.
What should the color temperature of the lights be?
Color temperature may not appear to be a crucial factor to consider when selecting the proper warehouse light fixture, but it can and will have a significant influence on visibility and productivity. Color temperatures ranging from 4000K to 5000K are ideal for warehouses. This variety provides a cool white light with a blue tinge that has been shown in studies to decrease eyestrain and promote a productive work atmosphere.
Which type of lighting should be used?
Warehouses normally require one of two light distribution types, I or V, depending on the facility's configuration. A type I distribution, which is a very long and thin light pattern, is required for spaces with tall shelf units. This guarantees that no light is lost or obscured by the shelves' tops. A type V light distribution is better suited to a warehouse with a more open design. This light pattern emits light in a circular or square pattern from all sides of the fixture. In our last piece, Light Distribution Types, we discussed the differences in light patterns in greater detail.
How Should the Fixtures Be Arranged?
The distance between your light fixtures is crucial. If they're too close together, you'll have hot spots and/or glare where the light from one fixture overlaps with the light from the next. If they are too far apart, there will be "drop-off" or black spots in the illumination. Before acquiring or installing fixtures, make a plan of where they will go. Consult a lighting specialist if you're confused about your fixture placement to ensure you're not over or under illuminating your space.
What Else Is Required?
Occupancy and vacancy sensors might be your greatest friend when it comes to lighting vast places like warehouses. Including one of these motion sensor types in your lighting design can cut the cost of wasted energy by up to 30% without requiring a significant overhaul. Depending on whether or not someone is in space, these sensors turn the lights on and/or off. When you want the lights to switch on and off automatically, use occupancy sensors. Vacancy sensors are intended for situations where the lights do not need to turn on every time someone arrives, such as warehouses with enormous skylights, but you still want them to turn off when the space is vacant.
For more information about  warehouse lighting supplier, please visit  https://www.evogreentech.com.my/